Home
>
Portfolio
>
America's Party - Las Vegas New Year's 2010
America's Party - Las Vegas New Year's 2010
Dec 30, 2009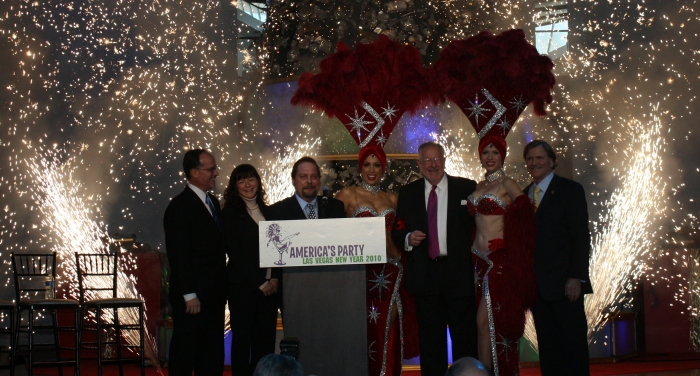 50 Grucci Pyrotechnicians spent a week from December 27th thru New Year's Eve 2009 to install and prepare the many effects planned for America's Party Celebration to bring in the year 2010.

12 months in the planning culminated when Fireworks by Grucci pushed the button and 7 rooftop locations along the world famous Las Vegas Strip became illuminated with effects such as Golden Kamuro, Blue Zig Zag Comets, Silver Glittering Palm Trees, Golden Orchids, Peacock Tails, Red Rings with Palm Pistils, Blue and Silver Peonies and Yellow and Red Reflecting Shells.

This high tech Pyrotechnic production was the largest New Years Fireworks performance in the country that night.

Fireworks by Grucci engineered and delivered the precise calculations, tests and demonstrations to the Clark County Fire Department, Las Vegas Metro, the Las Vegas Fire Department and Las Vegas Events to the support the performance to return safely to the rooftops of 7 properties.

Before the event, Phil Grucci, Executive Vice President, Fireworks by Grucci stated:

"We are excited with the opportunity to fill the sky above the world's largest New Years Eve stage, Las Vegas, for America's Party 2010!" 

"Las Vegas is our second home, we have had the honor to produce 6 America's Party Celebrations, Las Vegas' Centennial Celebration and all of the strip's major grand openings since the Mirage grand opening in 1989. We rest our 6 generation reputation on this year's performance promising to be a spectacular welcoming to the year 2010." 

Over 10,000 circuits were initiated to fire the intricate sequences from the 7 locations along the strip. Each circuit controlled and deliver a split second pulse of electricity to ignite in excess of 30,000 pyrotechnic devices loaded on the rooftops.

Effects such as tourbillions, comets, mines, peonies, chrysanthemums were all part of the core program. Special effects such as the letters L and V opened the performance as a tribute to Las Vegas. Peacock Tails illuminated the sky during Gloria Estefan's "Party Time", Green Popping Peonies burst overhead during "Star Wars" by John Williams and Red Chrysanthemums with Blue and Silver Peonies streaked down the strip during "God Bless America".

Each year, the preparation of America's Party begins with the smoke settling from the year prior. Every show is a culmination of 12 months of planning, developing and designing the most exciting and unique effects available in the world. Fireworks by Grucci has two manufacturing facilities (in New York and Virginia) that were in full swing to support the enormous demand of the largest new years fireworks show in the Nation, America's Party 2010 – A Las Vegas Celebration! 
Video