NEED ANOTHER REASON TO VISIT ATLANTIC CITY THIS SUMMER? 
FIREWORKS BY GRUCCI TO DAZZLE AT TROPICANA!
Weekend shows to run from May 26th through September 8th 

____________________________________________________________
What: Tropicana Casino and Resort – Weekly Summer Shows!
When:  Starting Saturday, May 26, 2018 – September 8, 2018 at 10:00 pm!
Where: Tropicana Resort & Casino Boardwalk, Atlantic City, NJ
____________________________________________________________
BELLPORT, NY (April 13, 2018) – The Grucci family is proud to announce its encore commission by Tropicana Atlantic City to celebrate the 2018 summer season with Fireworks by Grucci! To start off summer with a grand entrance, Tropicana will host the first of 17 firework performances Memorial Day weekend. The series starts on Saturday, May 26th and then every Saturday night until September 8th, plus Wednesday, July 4th. The display will dazzle the sky with vibrant fireworks along with The Tropicana Multimedia Light & Sound Show. The combination of these two spectacular mediums will make for an incredible summer night in Atlantic City!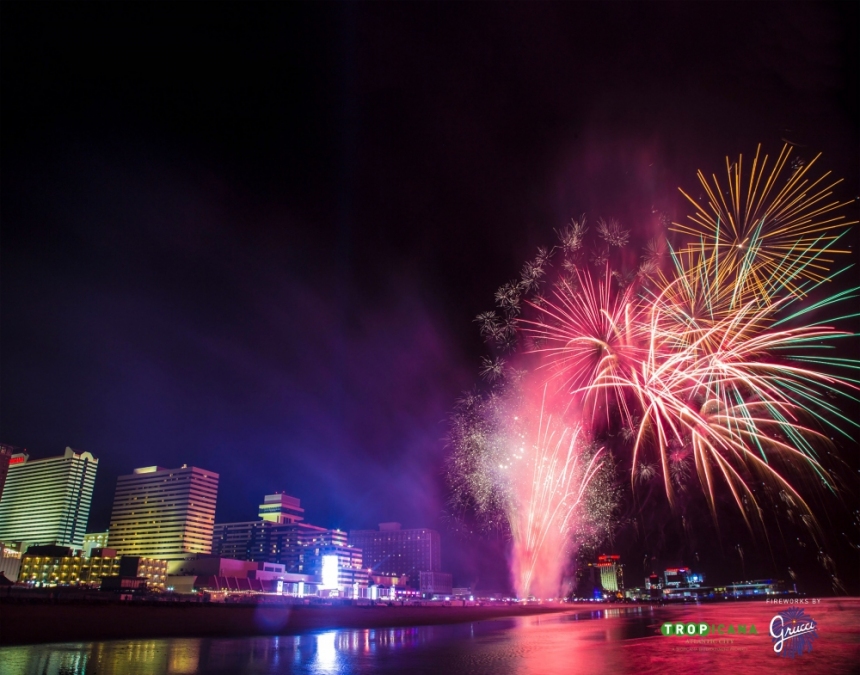 The firework shows will be designed and performed by Guinness World-record holding Fireworks by Grucci! The sixth-generation, family-owned and operated firework performance company has been partnering with Tropicana Atlantic City since 2015, when the first summer series of fireworks began at the luxurious casino and resort. Each of the 17 performances will be displayed from the beachfront and will include intricately designed scenes and vivid effects including Grucci high aerials and grand illuminations.
"It is an incredible honor to collaborate with Tropicana Atlantic City once again," says Phil Grucci. "We cannot wait to bring smiles to the faces of Tropicana's guests along with the Atlantic City locals of all ages as we paint the night skies. We love that we can do so every weekend of the summer, as well as July 4th, thanks to the Tropicana."

Some Fun Facts
Fireworks Show Design & Choreography: Phil Grucci     
Number of Hours to Choreograph: 22 
Number of days to install: 2 days per show       
Number of man hours to set-up: 120
Number of Pyrotechnicians: 5    
Featured Fireworks:  Grucci High Aerials and Grucci Grand Illuminations
Check out what you can expect from this video below