Home
>
Portfolio
>
Grucci realizes Black Square for the opening of the Garage Museum in Moscow Russia
Grucci realizes Black Square for the opening of the Garage Museum in Moscow Russia
Jun 11, 2015
Jun 11, 2015 - Fireworks by Grucci completed their first ever commissioned production in Russia.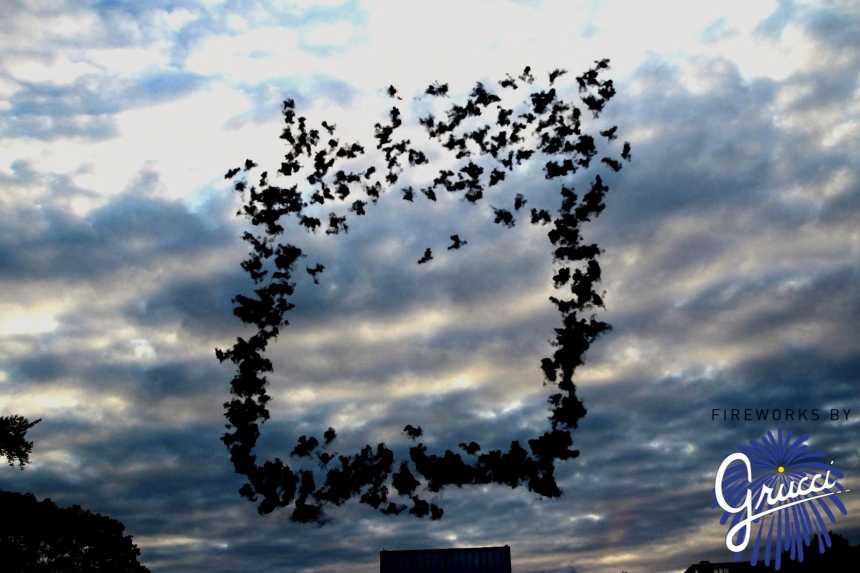 Collaborating with contemporary artist Rirkrit Tiravanija in the design of Black Square, FbG designed and fabricated the PixelBurst-tm shells in their own factory then shipped into Russia for the installation and display.
The Black Square in the sky above the Garage Museum in Moscow was part of the day's grand opening exhibitions and was popularly mistaken for birds.

Credits:
 
Commissioned by: Garage Museum of Contemporary Art – Moscow, Russia
 
Design:                 Rirkrit Tiravanija/Phil Grucci
 
Engineering:      Pyrotechnique by Grucci Inc.
                                Phil Grucci
                                Christopher Carlino
                                Ron Simon
                                Lawrence Goetz
                                Vicente Caballer Jr.
 
Installation and realization:
                                Fireworks by Grucci Inc.
                                
Joseph Mercante – Project Manager
Ian Mackenzie – Chief Pyrotechnician
Christopher Grucci – Pyrotechnician
Dan Havens – Pyrotechnician
                                Alexander Pharaphonov – Imperskiye Zabavy, LTD
 
Location of Exhibition: Gorky Park, Moscow, Russia
 
Select a Gallery
Click on an image to select a gallery.