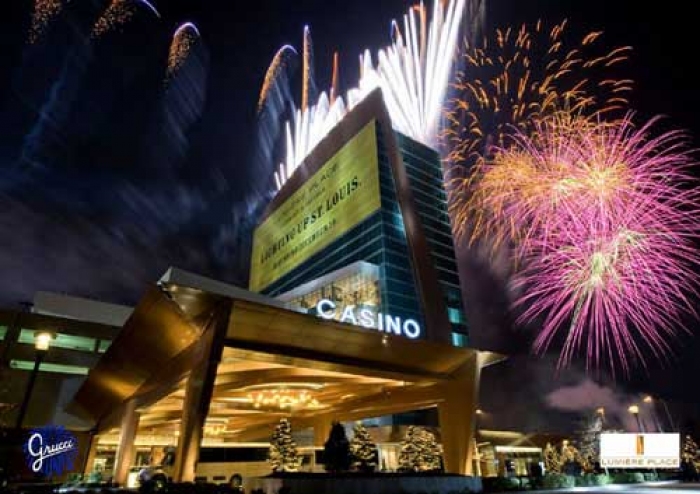 ST. LOUIS, MO., December 19, 2007 – Lumière Place, the new $507 million luxury gaming property constructed in downtown St. Louis by Pinnacle Entertainment, Inc. (NYSE: PNK), commissioned world-famous Fireworks by Grucci to produce the pyrotechnic and light spectacular during the opening-night gala for the entertainment complex.
The Lumière Place fireworks and lighting display was launched and displayed from multiple locations at the downtown St. Louis entertainment complex and was visible from miles away. Phil Grucci, Designer and Executive Producer, stated "Our display, 'Light up the Night,' includes some of the world's most exclusive special effect pyrotechnics. Choreographed to a rousing music score, we will display nearly 1,500 aerial shells and as many as 2,300 special effect 'Grucci Grand Illuminations.' This production promises to be the largest rooftop performance in St. Louis history." Lumière Place opened to the public at 10 p.m. on December 19, 2007.
About Lumière Place

The $507 million Lumière Place sits just north of the city's famed Gateway Arch, and is also adjacent to St. Louis' Central Business District, the America's Center convention center and the Edward Jones Dome, resting at the nexus of four Interstate highways and the MetroLink light rail system.
Lumière, which means "light" in French, reflects both the city's French heritage and the dramatic presence Lumière Place's 24-story luxury hotel tower will have along the St. Louis riverfront. The tower will be illuminated at night with a striking arc of light, creating a new icon on the downtown skyline. Lumière Place will offer a 75,000-square-foot casino with 2,000 slot machines, more than 45 table games, a dedicated poker room, seven restaurants and retail shops, a 200-guestroom Four Seasons Hotel with a 10,000-square-foot spa and business center, and an all-suite hotel with nearly 300 guestrooms.
Construction began on Lumière Place in September 2005.
About Pinnacle Entertainment

Pinnacle Entertainment, Inc. owns and operates casinos in Nevada, Louisiana, Indiana, Missouri, Argentina and The Bahamas; owns a hotel in Missouri; and has significant insurance claims related to a hurricane-damaged hotel and casino complex previously operated in Biloxi, Mississippi. The Company is building a $507 million casino hotel in downtown St. Louis, scheduled to open in December. Pinnacle also has a second casino development project under construction in the St. Louis, Missouri area. The opening of both Missouri casinos is dependent upon final approval by the Missouri Gaming Commission. Pinnacle is currently developing a second casino resort in Lake Charles, Louisiana, to be called Sugarcane Bay; anticipates developing a casino resort in Baton Rouge, Louisiana, to be called Rivière; and has submitted a proposal for a casino resort in Kansas City, Kansas, subject to various approvals. Additionally, Pinnacle owns a casino site at the heart of the famed Boardwalk in Atlantic City, New Jersey, on which it plans to build a major new casino resort.