Home
>
Portfolio
>
Guinness' 250th Anniversary
Guinness' 250th Anniversary
Dec 30, 2009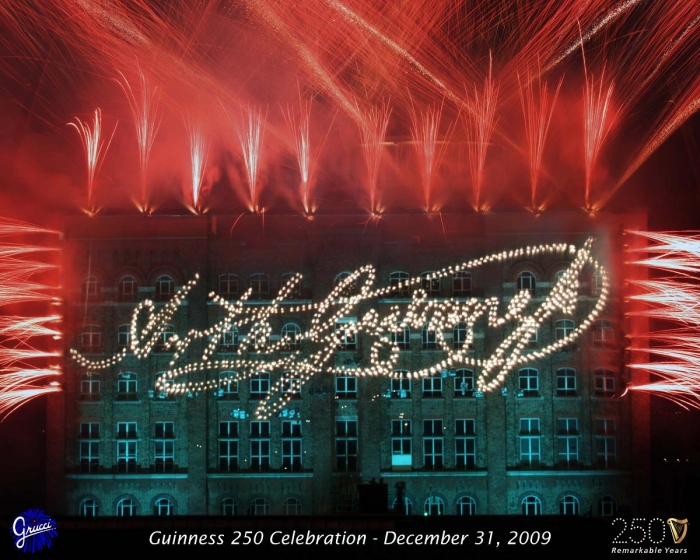 [December 31, 2009]  (New Years Eve) at exactly 17:59 GMT, Guinness & Co signed off on a remarkable 250th anniversary year with a spectacular 60 second broadcast live on RTÉ One from St James's Gate Brewery.
Fireworks by Grucci of New York, who have designed and produced fireworks performances for US Presidential inaugurations and Worldwide Olympic opening ceremonies, coordinated the live TV spectacle which featured a 42 metre long recreation of Arthur's famous signature in pyrotechnics across the north facing wall of Guinness Storehouse followed by a spectacular fireworks show from the rooftop of the building. Phil Grucci, Designer and Executive Producer stated "it is a great honor for our 6 generation family to be commissioned to help commemorate this historic event with the etching in pyrotechnics, the famous Arthur Guinness signature at precisely 17:59"

Arthur Guinness signed the famous 9,000 year lease on the St James's Gate Brewery on New Year's Eve in 1759. Guinness & Co broadcast the live TV ad to mark this remarkable moment in its history and as a thank you to the people of Ireland for helping to establish the Arthur Guinness Fund. 

In addition to designing the pyrotechnic display, Fireworks by Grucci worked directly with Diageo Ireland Health & Safety officers, the Dublin Fire Department and Gardaí to ensure both fire and structural safety guidelines were stringently adhered to.

John Kennedy, Managing Director, Diageo Ireland commented, "New Year's Eve marks the end of a very special milestone for the GUINNESS brand, from 1759 when Arthur signed the 9,000 year lease on the St. James's Gate brewery to today, where GUINNESS is a truly iconic brand, enjoyed in 150 countries around the world. It was remarkable to see so many people participating in Arthur's Day, the peak of the 250 celebrations. Guinness & Co wants to thank all the people who joined in our worldwide celebrations." 
Kennedy continued, "The live TV ad not only marks the end of a remarkable year for the brand, but it's also a gesture to Irish people who helped to create the Arthur Guinness Fund, the next philanthropic step from Guinness & Co., which will help to create sustainable community projects around the country from 2010." 

As a remarkable 250th year draw to a close, the Arthur Guinness Fund is a fitting tribute to the legacy of Arthur Guinness and the Irish people who have helped to make it a reality. The Arthur Guinness Fund was set up with the aim of supporting projects and initiatives that are innovative, impactful and sustainable, for the benefit of communities across Ireland.