Home
>
Portfolio
>
America's Millennium - Washington DC
America's Millennium - Washington DC
Dec 31, 1999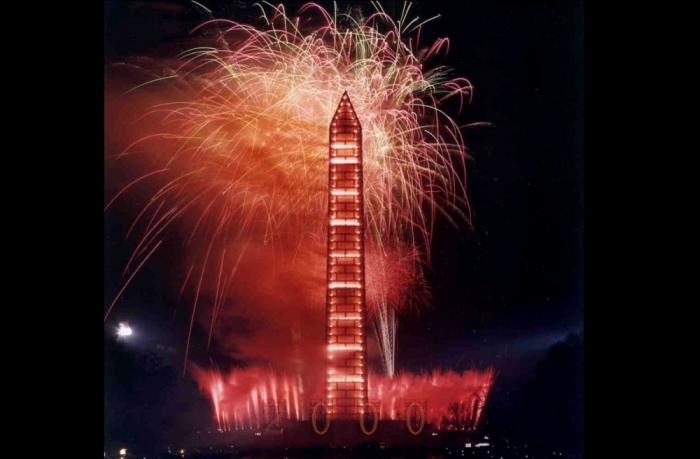 Exclusive waivers granted for the attachment of explosive devices to a National Monument. (Federal law prohibits such demonstrations within a 45' radius of a National Monument)Two-weeks of product demonstrations and extensive testing accompanied with meetings to achieve an unprecedented approval from Department of the Interior, US Park Service, DC Fire, DC Police, US Secret Service. Created a linear ½ mile "fuse effect" ignited by the "International Child" with a handheld torch, which visually started the Millennium count UP at the base of the Washington Monument.
---
---

Precise planning of load-in procedures and OSHA required training necessary for the safe working on scaffold and at heights of 550'.Precision timing required (once in a Millennium opportunity - no second chance)…

Fireworks and pyrotechnic special effects are installed directly on the façade of the National Monument for America's Millennium celebration.Fireworks by Grucci has continued to excel in the use of specialty pyrotechnics on the very surface of the Nations most cherished monuments and structures.

Extensive testing and a long history of experience has proven successful in each of the Grucci Family's World Class Performances.

Expertise in rigging, engineering and protection of a sensitive structure was essential.White marble façade of the Monument newly renovated (10 million dollars) created a tolerance for damage. Extensive experience in the use and execution of close proximity pyrotechnics proved successful.Custom designed pyrotechnic devices and equipment to withstand 2 weeks exposure to rain, extreme cold, snow and wind allowing the pre-rigging of 3000 devices to the structure.Given the critical nature of the effect proposed as well as the precise timing required to sequence the effects, Fireworks by Grucci delivered the premiere visual effect necessary. Close coordination with event and television producer Quincy Jones and George Stevens Jr. yielded the dramatic scene necessary to capture the print media and television coverage that represented America's Millennium Celebration.