Home
>
Portfolio
>
Grucci & Bergdorf Goodman Kick off 2014 Holiday Season
Grucci & Bergdorf Goodman Kick off 2014 Holiday Season
Nov 18, 2014
Black Friday? Grucci Kicks off the Holiday Season with a NYC Pyrotechnics Performance in Bergdorf Goodman's White, Silver and Lavender!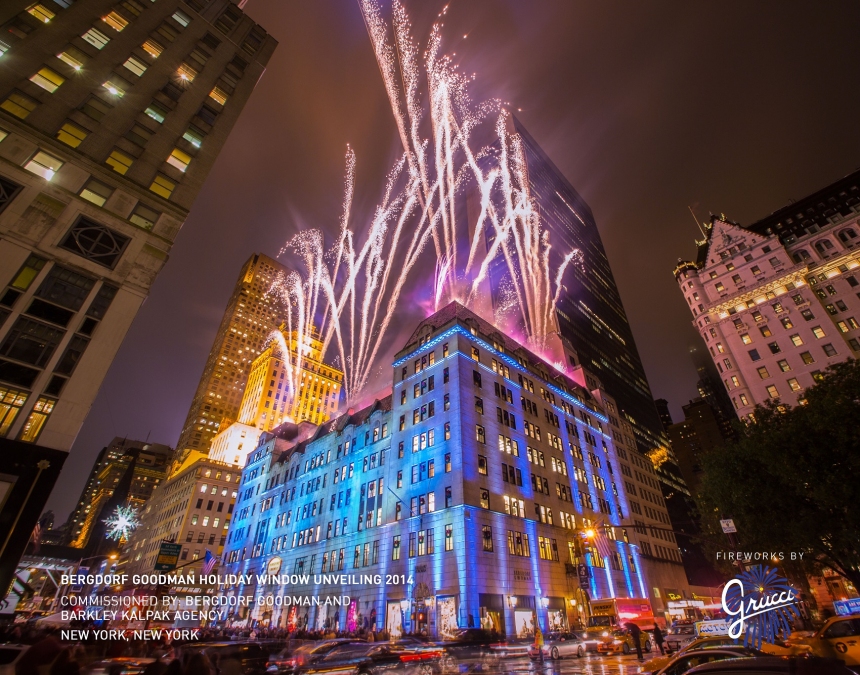 BELLPORT, N.Y., Nov. 17, 2014 /PRNewswire/ -- The famed pyrotechnical artisans of Fireworks by Grucci performed for 2014 Bergdorf Goodman Holiday Window Unveiling & UNICEF Snowflake Lighting on November 17 on Fifth Avenue between 57th and 58th Streets. Fireworks by Grucci, fresh from entering the Guinness Book of World Records for a second time this year, staged a glittering performance in Bergdorf's iconic white, silver, and lavender.
The special event also featuring the lighting of UNICEF's Snowflake on 57th Street, a reminder of the need for goodwill to all in this year's holiday season. As a special addition, Bergdorf celebrated the Anniversary of Irving Berlin's White Christmas from Paramount Home Media Distribution (to be carried in Bergdorf Goodman) and select Neiman Marcus stores this holiday season – benefiting the U.S. Fund for UNICEF.